Network Benefits for Suppliers
Register. Connect. Generate revenue.
The Onventis Supplier portal is the entrance for suppliers to the Onventis Open Procurement network – a quickly growing procurement network for the midsize market. The Onventis Supplier portal helps suppliers recognize revenue potential in good time, and increase customer loyalty through consistent digital procurement processes. Don't miss out on the revenue opportunities in the Open Procurement network.
Network Benefits for Buyers
Supplier search and adoption on the Onventis Network
Supplier profiles from the Onventis Network include master data and company key figures as well as information about material groups (eCl@ss), delivery areas and EDI capabilities. You also have the option to directly contact suppliers or per click adopt supplier data from the Network into your own supplier management in compliance with your pre-defined supplier registration processes.
What would you like to do?
In the Onventis Knowledge Base you will find frequently asked questions (FAQ) about the Onventis Supplier Portal. The FAQs help you to understand and implement the most important use cases in the Onventis Supplier Portal.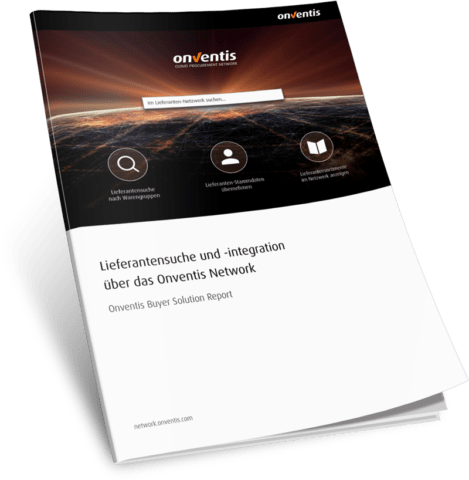 Die Digitalisierung des Einkaufs und des Beschaffungsportfolios sind ernsthaft nur möglich, wenn Abteilungs- und Unternehmensgrenzen für den möglichst echtzeitnahen Austausch von Informationen immer durchlässiger werden und alle Akteure gemeinsam miteinander arbeiten. Eine starke interne und externe Vernetzung ist das Maß aller Dinge, wenn Industrie 4.0 erfolgreich entwickelt werden soll.

Einkauf 4.0 – Digitalisierung des Einkaufs | Studie 2016 des Frauenhofer IML & BME
Vielen Dank für Ihre Anfrage.